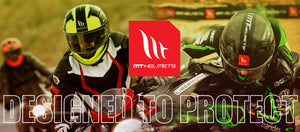 HIGH QUALITY AT AFFORDABLE PRICE!
MT helmets (Manufacturas Tomas S.A. - named after the founder) has been making motorcycle crash helmets in Cartagena, Spain ever since 1968. They are the largest helmet brand in Spain and are now starting to become better known in other EU markets, including the UK.
Having said that, MT are getting a reputation for producing high quality, safe lids at a very low price. Also, it's approved in DOT as well as FIM-homologated helmet - to be used in major racing events such as MotoGP.
Featured Categories